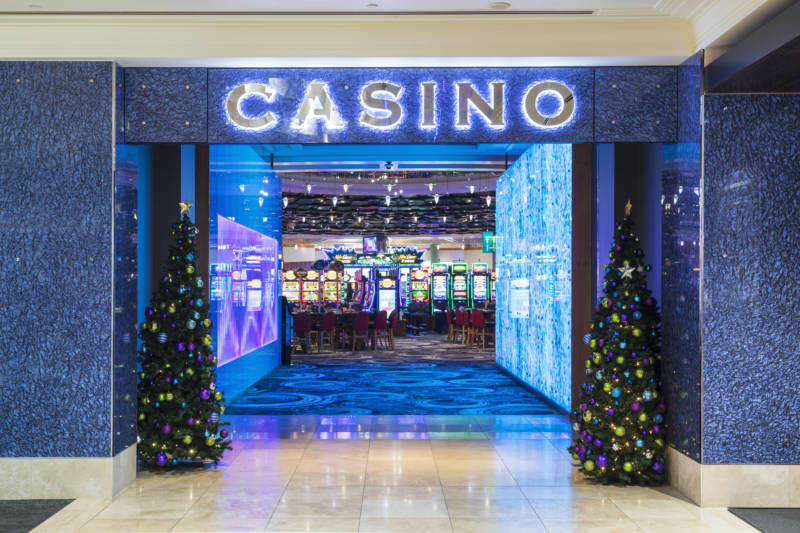 The Reef Hotel Casino underwent an extensive renovation to the gaming floor area. CPS were fortunate enough to work alongside the Reef Casino team to undertake refurbishment works in the main entry, executive gaming, Flinders Bar and the main gaming floor. The finishes specified for the project were of a high standard and were complimented by quality workmanship.
The main Entry corridor was completed across 2 separate stages allowing for access into the Casino at all times during construction. On one side of the main entry are white pearl, translucent, marble slabs that were sourced locally. The marble slabs were installed using standoff pins, this provided a cavity behind the wall where LED light strips were fitted. The LED strips can be controlled to allow mutli-coloured light patterns that permeate through the marble and flow seamlessly from one side of the wall to the other. The marble feature wall was also replicated in the executive gaming area. On the opposite side to the marble wall are 3 bubble wall tanks that shoot up bubbles in various patterns that flow from end to end. The bubble wall tanks can be programmed with various bubble and lighting patterns. The tanks were complimented by the installation of coloured glass joinery around the perimeter of the bubble wall tanks.
The executive gaming area consisted of feature marble slabs, a blackbutt feature timber joinery wall with LED strip lighting. Low height curved walls with blackbutt timber trims and fabric panels inset and a beautifully crafted Corian welcome desk with gold acrylic panels placed across the top.
The Flinders Bar and dining area now provides patrons with booth seating along the back wall, with feature joinery wall panels. A large planter box and bench seat combination has been installed in the centre of the dining area that can be maneuvered across the floor space to suit any function requirements.
Throughout the entire ground floor gaming area new carpet has been installed. The work was broken up into multiple sections to ensure that the existing carpet could be removed and then replaced in the same day. The works had to be completed within the live environment to ensure project milestones could be achieved. This presented a number of challenges for the project team but through careful planning, co-ordination and high levels of communication, the works were completed successfully and with minimal disruption to the day to day running of the casino.
This was a great project to be involved in. The manner in which the client, design team, sub-contractors and CPS worked as a whole project team ensured a successful project and outcomes for all involved.